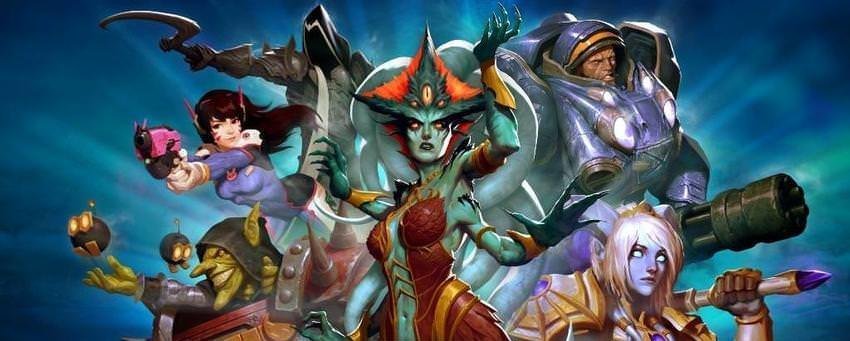 A reddit post revealed some interesting information about Patch 8.1 that were supposed to be unveiled at Gamescom, but Blizzard confirmed there's no dedicated WoW panel and it appears they only plan to reveal Warbringers: Azshara.
Update
No plans to have a dedicated WoW panel this year. Warbringers: Azshara will be revealed at 18:15 CEST on Friday, August 24.
We do not have a dedicated World of Warcraft panel at gamescom this year as such.
We instead have a series of other activities such as Island Expeditions showcases with 2 top German guilds battling it out, a Battle for Azeroth cosplay showcase, Video Games Live performances featuring a live rendition of the sea shanty from Warbringers: Jaina, and the reveal of Warbringers: Azshara.
Warbringers: Azshara will be shown directed after the Battle for Azeroth cosplay showcase which will be streamed live from 18:15 CEST on Friday, 24th August.
We posted a blog yesterday that covers all the WoW related stuff happening at gamescom this year:
https://worldofwarcraft.com/en-gb/news/22316739/world-of-warcraft-at-gamescom-2018
While we can't verify the credibility of the leaks, it will be interesting to see what awaits us in Battle for Azeroth in the near future. We've also added some more details by redditor leakysneaky from here.
Patch 8.1 Leaks
Blizzard is supposed to announce that WoW has 10+ million active subscribers.
Patch 8.1 is called "The Tide Whispers" and comes with Nazjatar, a new raid with Azshara, and a total of 9 bosses. We should also get 2 new dungeons:

The Shadowlands – focuses on Bwonsamdi & Vol'jin lore.
Nazjatar: Sea of Stars

Crestfall & Zul'Dare are new outdoor questing zones and each faction has their own story.

Crestfall is an Alliance zone, populated by isolationist Kul Tirans. Reaching Exalted reputation with the new faction unlocks Kul Tiran Humans.
Zul'Dare is the Horde zone. The island held an ancient holy site for the Zandalari, the Halls of Loa, but had been taken and settled by Kul Tirans in the past. Horde players must retake the island and probably reach Exalted with the faction in order to unlock Zandalari Trolls.

The patch trailer should be narrated by N'zoth.
Kul Tiran Humans & Zandalari Trolls will be gated behind Exalted reputation standing with the Nazjatar Resistance faction associated with the new quest hub.
Blizzard will unveil a Genn Greymane cinematic, similar to Old Soldier. It's supposed to feature Genn, Katherine Proudmoore, and Taelia Fordragon. It focuses on family and flashes back to his son in Gilneas. Baby Jaina and Katherine also make an appearance. The cinematic ends with Genn pulling up a chair in front of Saurfang in his Stockades cell.
The end of the presentation shows off Anduin and Sylvanas in her banshee form fighting. More information is probably going to be revealed at BlizzCon.
The game files currently contain a map called "Nazjatar" and Blizzard plans to unveil the Azshara Animated Short soon, we'll have to wait until Friday to see what's next!



1